Posted on
Ledeau Arrested After High Speed Chase In Great Falls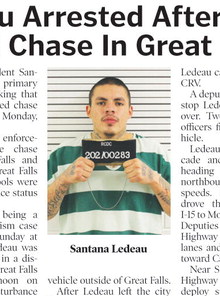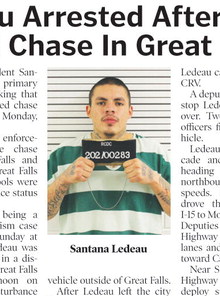 Former area resident Santana Ledeau is the primary suspect in a carjacking that involved a high speed chase near Great Falls on Monday, Oct. 17.
According to law enforcement officials, the chase started in Great Falls and ended in Simms. Great Falls and other area schools were put on shelter in-place status for a short time.
After reportedly being a suspect in a vandalism case in Great Falls on Sunday at about 11:55 p.m., Ledeau was reportedly involved in a disturbance behind a Great Falls business around noon on Monday. That disturbance allegedly involved Ledeau firing a handgun.
When the Great Falls Police Department located Ledeau in a vehicle on the 1000 block of Third Alley North, he refused to stop for the officer and fled the area. It was reported that he was driving a 2013 Chevrolet pickup that had been reported as a stolen vehicle outside of Great Falls.
After Ledeau left the city limits, the Cascade County Sheriff's Office became involved and received a report of an attempted carjacking on an off-ramp. During that incident, Ledeau allegedly fired a round at someone in a vehicle. Deputies located his unoccupied vehicle near Cascade. Deputies searched the area and reportedly saw Ledeau carjack a blue Honda CRV.
A deputy who attempted to stop Ledeau was nearly run over. Two law enforcement officers fired at Ledeau's vehicle.
Ledeau fled through Cascade and returned to I-15 heading southbound in the northbound lanes at high speeds. Ledeau reportedly drove the cut-across from I-15 to Montana Highway 200. Deputies were able to block Highway 200's southbound lanes and force Ledeau back toward Cascade County.
Near Simms, the Montana Highway Patrol was able to deploy stop sticks in front of Ledeau's vehicle. He continued to travel at a high rate of speed through Simms until striking another vehicle about a mile east of Simms. After the vehicle he was driving went into a ditch, Ledeau was taken into custody.
He was initially charged with robbery, but additional charges are likely.