Posted on
Parade Event Highlights Artifacts, Access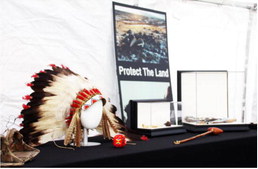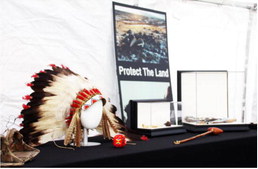 Fort Peck Tribes Cultural Resource Department staff and volunteers held their inaugural live museum parade with corresponding events despite rain and wind Saturday, Sept. 24 at Legion Park in Poplar. Organizers moved the parade under the arbor and hurried cultural items and artifacts under a tent. Otherwise, festivities went on largely as planned.
Parade contestants lined up by category and were led in by flag bearer Lance FourStar. Contestants included veterans, men, women, children, two horses and dogs. Attendees were invited to inspect cultural items staff selected for the outdoor event. These included regalia, crafted leather and other artifacts recently repatriated by the department from the University of Montana.
CRD field research manager Betty Bear told the Northern
Plains Independent that community engagement was a priority.
"I think it's vital for our department to do this kind of outreach," said Bear. "It's important to help our community grow more aware of our cultural heritage and practices. To show our people what we wore, used and did." Bear said that cultural events can help community members face aspects of generational trauma. "It is hard for our elders to speak of such topics and what they had to endure as a people," she said. "I truly believe now is the time we bring everything to light and acknowledge what our ancestors went through and what we go through today as a people."
The Tribal Historic Preservation Office and Tribal Museum and Archives are located behind the James E Shanley Tribal Library on the Fort Peck Community College campus in Poplar. For more information, contact CRD Director Dyan Youpee at 406-768-2382 or coordinator Jonnie Huerta at 406-768-2468.

ClarksKenzley and Haeli Clark prepare to enter the children's category at the CRD live museum parade in Poplar Sept. 24.(Photo by James Walling)