Posted on
Wolves Drop Match To Malta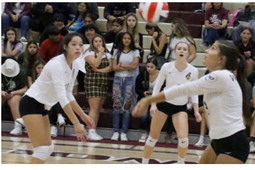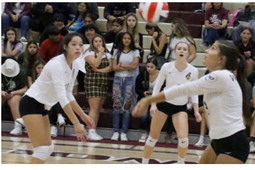 The Wolf Point Wolves put up a strong fight before falling to Malta in three sets during a home volleyball match on Saturday, Sept. 17.
Malta won the conference match by a 25-13, 26-24, 25-23, final.
In the first set, Malta gained a 21-8 lead en route to a 25-13 win.
The Wolves rebounded with much better performances in the final two sets. An ace by Katelyn MacDonald and a kill by Kaleah Miller- Toves put Wolf Point ahead 9-7.
Aces by J'elle Garfield and Gabrielle Fourbear and the net play of Joli Beston highlighted action as the Wolves earned a 15-12 advantage.
After a kill by Malta's Allison Kunze tied the score at 18-18, Wolf Point went back ahead on a kill by Fourbear.
A kill by Kylie Rodenberg and a point on Ali Corpron's service put the Wolves up 2423, but Malta scored the set's last points including an ace by Brylee French and a block by Kunze.
The Wolves, who played the match without standout Sierra Hamilton due to injury, gained a 6-4 lead in the third set on the solid net play of Jerzey Azure.
A kill by Rodenberg and two kills by Azure kept the Wolves close at 12-12.
Behind by a 21-18 margin, Garfield stepped up with a kill and an ace for a 21-20 game.
Malta scored net winners by Giona Lamb and Denvyr Tuss down the stretch to take a 25-23 win.
The Wolves will host Glasgow on Thursday, Sept. 22.