Posted on
Local FFA Groups To Host Competitions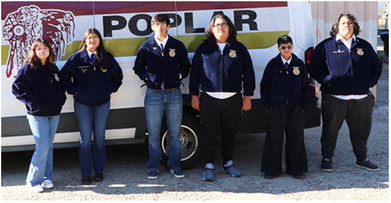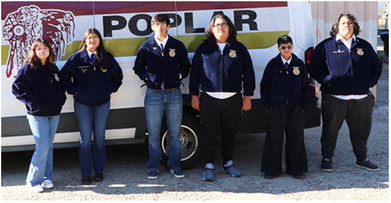 For the first time in the program's history, Poplar's FFA will host a competition this fall. Poplar, which started a FFA program two years ago for the first time since the 1940s, will cohost a competition with Wolf Point on Monday, Oct. 10.
"We have about 14 teams in the district that plan to come," Poplar's FFA advisor Ted Fulgham said.
The day will feature a livestock competition and an agronomy competition.
"Wolf Point will do the livestock side, and I will do the plant side," Fulgham said.
Each school can have a varsity team and two JV teams compete.
He said there's a lot of stress involved with organizing the event, and he's hoping the community assists if possible.
If any residents can help supply livestock or seed for the competitions, they should contact at Fulgham at Poplar High School or Martin Toavs at Wolf Point High School.
Montana FFA consists of eight different districts. Wolf Point and Poplar are part of the Big Muddy District.
There are 765,000 students involved in FFA throughout the country. Of those students, 54 percent are female. Poplar's officers this year include Gaberiella Baker as president, Kiara Grant as vice president, Roseana Youpee as secretary, Cameron Spotted Bird as treasurer and Bryson Beauchamp as sentinel.
Poplar's program started the year with six members attending the district leadership school in Scobey two weeks ago. Students went to leadership workshops and interacted with FFA members from 14 other schools that are members of the Big Muddy FFA district. All the FFA members at DLS also interacted with the State FFA officer team from Montana State University - Bozeman.