Posted on
Juliet Smith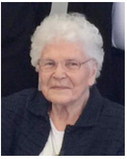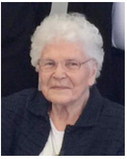 Juliet Smith, 96, died Sept. 4, 2022, at the Sheridan Memorial Nursing Home in Plentywood.
She was born to Minnie (Olson) and Ole Ellevold on Nov. 24, 1925. She grew up on the family farm near Hanks, N.D., and graduated from the Hanks School.
She obtained her teaching degree from Concordia College. Before her teaching career took off, she met Ed Smith at a dance at Brush Lake. They were married Sept. 29, 1945 — a marriage that would last for 70 years and produce four sons. They made their home south of Dagmar in the Volmer community. She was extremely proud of her sons and their families.
Besides caring for her family, she was active in numerous community activities. She was a 4H leader, a member of the Volmer Helping Hands Club and the Cowbelles. She was a member of the Volmer Lutheran Church and taught Sunday school for many years. She enjoyed sewing, gardening and cooking. She could figure out how to prepare a variety of game — from sandhill crane to paddlefish or anything else that her men would bring home.
She enjoyed fishing and took many family fishing trips to Canada and spent summer weekends at Blacktail Dam fishing and camping with neighbors. She would join Ed in Helena during the Legislature where she took up cross country skiing, which got her back to her Norwegian heritage.
She and Ed took numerous trips with Ed's brother Art and wife Velma. Later, they would spend time in California each winter visiting