Posted on
Drapeau Takes Over Leadership Role At Frontier
Frontier School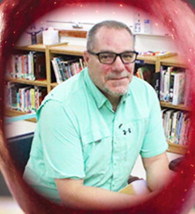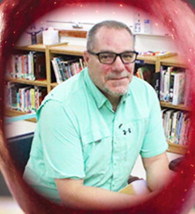 New superintendent Patrick Drapeau works with students in Frontier Schools' library last week. The school features 129 students this year. (Photo by Bill Vander Weele)
In his first year as Frontier School's superintendent, Patrick Drapeau is thrilled with the attitude at the school.
"It's a family atmosphere," Drapeau said. "Everybody is pretty upbeat and happy."
The school's enrollment is currently 129 students compared to 97 at the end of last school year.
"That was one of my goals as superintendent," Drapeau said of increasing enrollment. He believes Frontier School's highest enrollment ever was 153 students.
"We're trying to get back to that number," he added.
Drapeau is pleased that Frontier features a full teaching staff. There is only one new teacher at the school.
Frontier is also one of only 12 schools in the state to be part of a new teaching residency program and is fortunate to have one instructor through the program.
Residents begin the program with a two-week summer institute, then enter a one-year in-school apprenticeship under a teacher or leader. During the year, residents engage in summits sponsored by the Office of Public Instruction while simultaneously completing coursework to earn a bachelor's degree from their Montana university. In exchange for committing to teach in a high-needs rural Montana school district for two years, residents receive a stipend, partial tuition support and district- provided housing.
Drapeau is hopeful that Frontier has additional teaching residency instructors in future years. He has reached out to Fort Peck Community College and Miles Community College regarding a partnership in the program.
He has also been asked to be a member of the Montana Executive Leadership Academy.
One change being made at Frontier is the addition of new computer programs to improve math instruction.
"I saw so much good with it in Wolf Point, so we are going to implement it here as well," Drapeau, who was an elementary principal in Wolf Point last year, said.
School officials in Frontier and Wolf Point have worked to establish a new partnership for seventh and eighth grades in the sports of football, wrestling and track.
"I thought it was important to have a good relationship," Drapeau said. "It's a good goal for both of us. It's a win-win deal."