Posted on
Evans Receives Hedstrom Award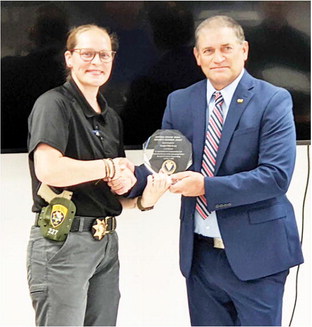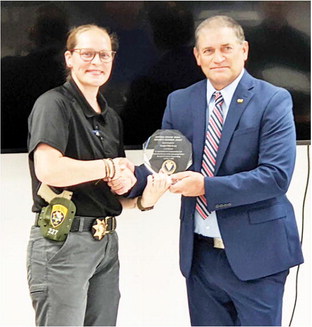 Montana Highway Patrol trooper T'Elle Evans of Wolf Point was recently awarded at the state level for her heroic actions.
She received the Hedstrom Award for going above and beyond the call of duty when she attempted to save a life using her first responder skills.
Sgt. Jeff Kent explains that the Hedstrom Award is the second highest award that the Montana Highway Patrol gives out. Evans was presented the honor from Col. Steve Lavin during a recent highway patrol academy camp.
"It was pretty incredible what she did," Kent said. "She definitely saved somebody's life."
On May 3, Evans put herself in harm's way to protect, secure and provide life saving aid to a gunshot victim in Wolf Point. She immediately provided medical assistance using her individual First Aid kit and applying a chest seal to the gunshot victim.
Evans has been a trooper for three and a half years.
"She's a tremendous asset not only for our agency but for the communities that she serves," Kent said.
Also receiving a Hedstrom Award was former trooper Benjamin Kecskes. He performed live-saving maneuvers on May 4, when he aided an unresponsive male by administering the AED followed by a jaw-thrust maneuver to help the male's breathing go back to normal and monitored him until EMS arrived.