Posted on
Culbertson To Open Season In Chinook Saturday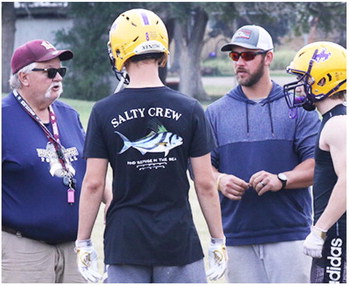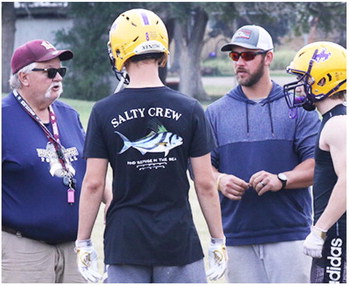 The Culbertson Cowboys will kick off their football season with a non-conference game at Chinook on Saturday, Aug. 27.
The Sugarbeeters are expected to have a tough team again this season. Chinook finished fourth in the North Division last season. The Sugarbeeters lost a close game against Fairview, 34-25, in the opening round of the playoffs.
"It will be a good measuring stick right off the bat," Culbertson coach Brian Manning said.
After a great turnaround season in 2021, the Culbertson Cowboys are hungry for more success this football campaign.
"We're excited to be back," Manning said at one of the team's first practices.
He noted the Cowboys are young with 14 of their 22 players being either sophomores or freshmen.
"It's a pretty good number," Manning said of the turnout. "That's where we started last year, too."
Leading the Cowboys are seniors Payton Perkins, Kobe Nickoloff, Justice Bengochea, Colin Avance, Hugh Donaldson and Tucker Finnicum.
Avance at offensive guard and Nickoloff at defensive back each earned All-State honors last season. Bengochea was a second team All-Conference pick at linebacker.
"We want to keep getting better each and every game," Bengochea said.
One of the Cowboys' goals is having a better postseason after losing in the first round of the playoffs last season.
"We're still unsatisfied," Avance said.
Nickoloff added, "We didn't play the way we should the last couple of games."
The Cowboys realize that the regular season will be a challenge in a tough league that includes powerhouses Fairview and Scobey. The top three teams will qualify for the playoffs. This year's format is different as each team will face the other league squads once during the season schedule.
"It will be a tough division," Manning said. "We have a long ways to go. It's early."
Underclassmen with a decent amount of varsity playing experience include Reese Moon, Bridger Salvevold and Carson Solem.
"We have a lot of moving parts from last year, but we're confident," Manning said.
Culbertson's first home game is against Ekalaka on Saturday, Sept. 10.
Culbertson Football Schedule
Aug. 27: at Chinook Sept. 2: at Poplar Sept. 10: Ekalaka Sept. 16: at Scobey Sept. 23: Circle Sept. 30: at Plentywood Oct. 7: Fairview Oct. 15: MonDak Oct. 28-29: First round playoffs Nov. 4-5: Second round playoffs Nov. 12: Semi-final round playoffs Nov. 19: State championship game

Defensive PressureColin Avance (left) and Payton Perkins (right) rush the quarterbackduring practice in Culbertson.(Photo by Bill Vander Weele)


CowboysCulbertson's players huddle up after a practice. The team's first home game is Sept. 10 againstEkalaka.(Photo by Bill Vander Weele)