Posted on
Arlene Egosque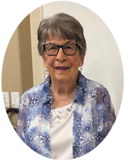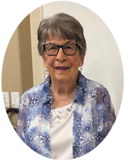 Arlene Jean Egosque, 91, formerly of Nashua, died Friday, July 15, 2022, at her home in Custer, S.D.
She was born April 3, 1931, in Glasgow to Fred and Maggie (Schaffer) Stohl. She attended Nashua Schools, graduating in 1949.
In 1950, she John Egosque. She worked for her brother at the Nashua grocery store and then worked for the U.S.P.S., where she retired in 1991.
She was a lifelong member of Our Redeemer Lutheran Church in Nashua and the Glasgow Elks Club. After retirement, she and John traveled on numerous bus trips, visiting every state except Hawaii and Alaska.
She and John spent 66 years together. In 2014 after losing her husband, John, she moved to Custer, S.D., part-time and then full-time in 2019 to be closer to her daughter, Pam, and family. Her grandchildren were her pride and joy.
She loved her flowers, playing cards, camping, campfires, hanging with her family, having girls' night with Pam, jewelry, purses and shoes. She was one of the most organized people in this world. Her smile and quick wit will be missed tremendously.
She was preceded in death by her husband, John; brothers, Clifford and Irven Stohl; and sisters, Loraine Stohl and Norma Holden.
She is survived by her daughter, Pam Storm of Custer, S.D.; three grandchildren; and sister, Elaine Maas of Billings.
Family will receive friends from 4 until 6 p.m., Thursday, July 21, at Bell Mortuary in Glasgow. Her celebration of life will be at 10 a.m. Friday, July 22, at Our Redeemer Lutheran Church Nashua. Committal service will follow at Highland Cemetery in Glasgow.