Posted on
Golfers Unite For Tough Enough To Wear Pink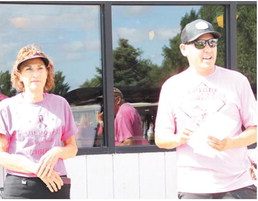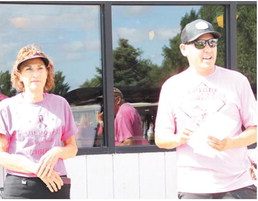 By Bill Vander Weele
The Stampede Round Up! Tough Enough To Wear Pink golf tournament again attracted a good amount of teams to the Wolf Point Airport Golf Course on Thursday, July 7.
Organizer Jan Bryan explained that the tournament started about 11 years ago. At first, a tournament was held during Stampede week to benefit the golf course. The focus then became a Tough Enough To Wear Pink event.
The tournament raises $1,600 each year for NEMHS' mammography department.
This year's tourney attracted 25 four-person teams.
"About half of the people play every year," Bryan said. "It's to raise money and have a good time."
Dennis Heser has been a participant in the tournament for many years. He usually plays on the same team with Bryan, Billie Brownlee and Dave Fyfe.
The event is a good fund raiser for breast cancer awareness and the golf course. Of the $35 entry fee, $15 goes to the TETWP charity and $10 is for the golf course.
He noted that some golfers make teams when they return for their class reunions.
"It's everybody getting together to have a fun time,"
Heser said.