Posted on
Esther Fast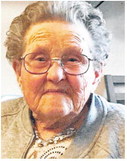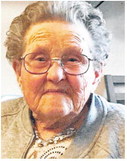 Esther Helen Fast, 100, of Lustre died at Valley View Home in Glasgow on July 6, 2022.
She was born May 30, 1922, to Jacob and Lena Fast. She joined a brother, Elvin, and a sister, Erma, followed.
She was a lifelong member of the Evangelical Mennonite Brethren Church in Lustre. She taught children's Sunday school and was active in the women's mission society. She accepted Jesus as her savior at the age of nine at an evangelistic tent meeting at her church.
She started her education at Center Bell School in Lustre and graduated from Glasgow High School in 1940.
She married Marvin Fast May 10, 1944, when he was on leave from serving the country in the civilian public service. Their first son, Gary, was born in 1945. When Marvin completed his service, he worked for Esther's parents on the farm. A few years later, they purchased the farm from her parents. Six more children were added to the family, Terry, Wanda, Dale, Glenda, Ricky and Kevin.
Sewing was her passion. She loved making dresses, wedding, prom and many little girl dresses. She was asked to sew infant dresses from old wedding dresses that were donated to an organization that gave them to stillborn infants. She also loved to quilt, crochet and embroider, but her greatest joy was giving her creations away.
There was never a small garden at the Fast farm.