Posted on
Magic In Motion To Serve As Specialty Act At This Year's Stampede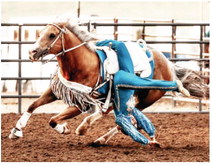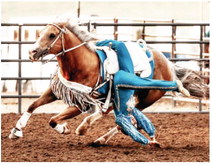 People attending the Wild Horse Stampede evening rodeo performances will have a special treat this year as Magic in Motion will serve as a specialty act.
Magic in Motion is regarded as one of the best acts going with a show that combines fast horses, death defying stunts and dazzling costumes.
A group composed of awardwinning trick riders, Magic in Motion provides an actionpacked show unlike any other.
Born and raised on her family's cattle ranch in southern Alberta, Canada, Shelby Pierson has taken her fast-paced, high-energy trick riding act to some of the top rodeos in North America and Australia. Pierson has been selected the Canadian Pro Rodeo Act of the Year three times, a top five PRCA dress act and a three-time Canadian trick riding champion. Some of her accomplishments also include being selected to perform twice at the Canadian Finals Rodeo and in 2021 being picked to perform at Wild Card Saturday at the Calgary Stampede.
Pierson is best known for her unique and quick style of vaulting which is recognized at events across North America. When not trick riding, she enjoys roping, training horses and helping out on her family's cattle ranch. She is also working toward her double degree in English and education with the hopes of teaching high school English and history in the near future.
Madison MacDonald Thomas has more than 22 years of experience as a trick rider performing across North America and even as far as Mexico at world renowned events and rodeos. Born and raised outside of Calgary, Alberta, Canada, she now calls Helena her home.
For the past 10 years, Thomas has been nominated as one of PRCA's top 5 dress acts of the year four times. Thomas is also a professional barrel racer and spends her time competing when she's not performing. Aside from rodeo events, she works as a stunt double for various productions such as the Canadian TV Show, Heartland.
When not on the road, Thomas teaches trick riding and horsemanship lessons, trains horses and enjoys roping.