Posted on
Frazer's Miller Contestant For Miss Montana Volunteer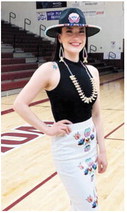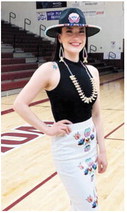 Frazer's Krysten Miller is making a run at Miss Montana Volunteer during the 2022 competition. Miller was the preliminary wellness & fitness and evening gown winner during Thursday night of the 2021 event.
Competition organizers said Miller is currently attending Fort Peck Community College pursuing a degree in psychology and addictions counseling with the hopes to one day open up her own practice to help children overcome childhood trauma.
Participants engage in "serve projects." Millers is titled "Sending Love to Our Soldiers-Supporting Active Military."
A press release said Miller loves to spend all her free time outdoors with her family.
The pageant is July 14-16 at Dawson County High School in Glendive.
Montana's choice voting is now open. To vote for Miller, visit pageantplanet.com/ event/miss-montana-volunteer.
The Miss Montana Volunteer Program is dedicated to advancing young women through education scholarships and promoting service to their community, Montana and the nation.