Posted on
BetsHisMedicine Retires From Sheriff's Office After 30 Years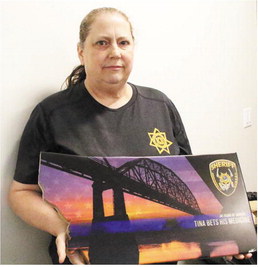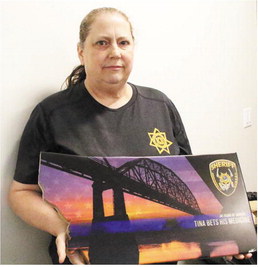 By Bill Vander Weele
An end of an era came at the Roosevelt County Sheriff's Office on Thursday, June 30, when a retirement celebration was held for longtime employee Tina BetsHis-Medicine.
BetsHisMedicine has worked at the sheriff 's office for 30 years and three months. Her first six years was as a dispatcher and then she served as an administrative assistant to the sheriff.
"We're going to hurt for a little bit until we find someone as loyal and dedicated as her," Roosevelt County Sheriff Jason Frederick said. "She's kind of the glue that holds us together."
He noted that BetsHis-Medicine is still willing to help train her replacement in the office.
She says she will miss coming into the office every day.
"They're my family," BetsHisMedicine said.
Her community involvement has included on the Wolf Point City Council and being a leader for Pound Puppies. She served on a committee for the victim/ witness program from 2000 to 2017.