Posted on
Badlands Celebration Adds Grand Entries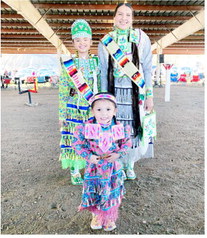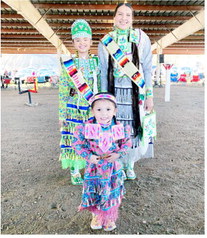 The Badlands Celebration saw additional grand entries and strong crowds over three days in Brockton June 24-26. Light turnout for camp sites didn't seem to impact sales for Turcotte Food Bus. Buck Turcotte said lines were long and they were cooking nonstop. "Lots of dancers," said Turcotte, "lots of spectators."
A second grand entry and nighttime program were added to the Sunday schedule. Attendees said the evening performances generally were among the best attended in recent years.
In junior girls' traditional, Ashlynn Miller of Poplar, took first place, followed by Nadalyn Spotted Wolf and Mila Gramling.
In junior girls' jingle, Blakeley Chaske of Spirit Lake, N.D., placed first, followed by Liliauna Long Knife, Amia Goodwill and Malaysia White Eagle.
Brockton's MaKenna Bird placed first in junior girls' fancy, followed by Aaliyah and Layla Roberts.
Junor boys' traditional saw a first from Berkeley Chaske of Spirit Lake, N.D., followed by Colton Roberts and Rooster Iceman.
Junior boys' grass saw Poplar's IceChunck Iceman in first, followed by Lynn Bets His Medicine, Jayden Eder and Carter Lambert.
Junior boys' fancy saw Braxton Crawford of Brockton in first, Tefton Bear in second, Wyatt Spotted Bird in third and Darren Poitra in fourth.
Teen girls' traditional saw Tessa Holds The Enemy of Mandaree, N.D., in first, followed Donna McKay.
In teen girls' jingle, first went to Brockton's Courtney SpottedWolf. She was followed by PJ Halsana, Kaliah Eagle and Poplar's Tahnee Thunderchild.
Teen girls' fancy went to Hally Eder of Poplar. She was followed by Chante Baker and KD Halsana.
Teen boys' traditional went to Wanbdi Chaske. He was followed by Si-Mis Top Sky of RockyBoy, and Weston Lambert.
Teen boys' grass went to Justice Cree Jr. of Bonners Ferry, Idaho. He was followed by Caleb Lester, Ronald Fasthorse and Lucas Carry Moccasin.
Teen boys' fancy went to Quannah FirstThat-Walks of Brockton.
Women's golden age's first-place went to Donna Kahnapace, with second going to Faith Pretty Boy, third to Mary Top Sky and fourth to Cheyenne Foote.
First in men's golden age went to Cody Eagleman of Poplar. He was followed by Ole Greybull, Terry Martinez and Mason Runs Through.
Women's traditional went to Nelenah Grey-Eyes of Spirit Lake Nation, with second going to Cassie Abbey, third to Alexis Isnana and fourth to Sweet Medicine Finley.
Adrianna Douglas won women's jingle, followed by Prairie Rose Jack, Amanda Goodwill and Crystal Little Owl.
Women's fancy went to Allison Bearstail of Bismarck, N.D. She was followed by Farrill Top Sky and Karen Noon.
Men's traditional went to Malcolm Murphy of Window Rock, Ariz., followed by Cameron Chaske, Donovan Abbey and Truth Brockie.
Men's grass went to Dusty Hanska. He was followed by Kelsey Haywahey, Damon Baker and Darwin Goodwill.
Men's gancy went to Cactus Runsabove of Billings. He was followed by Willy Grey-Bull, Wyatt Patty and Trevon Yuzicappi.
Officers included advisor Doris Spotted Bird, co-treasurers Talissa Eder and Brayan Boyd, secretary Ashley Weston, flag bearer Tote Gray Hawk, drum keeper Thomas Denny and arena director Raymond Olson.
Head man was Preston "Bucky" Johnson. Head woman dancer was Hannah Boyd. Kahloni Hoops Mazawasicuna was senior princess. Makenzie Crawforrd was first attendent. Gracie Lambert was junior princess. Mali Spotted Bird was first attendant as well. Brynnlee Nygard was mini princess. Jasalyn Lambert was traveling princess and Britney Cloud served as the helping committee.