Posted on
Sean Bighorn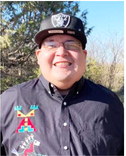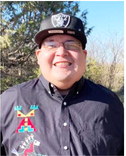 Sean Adam Bighorn, Dakota name "Sutaya Was'te" (Firmly Good), Nakoda name "Takes the Horse" Tasunka Kin Icu, 34, of Wolf Point died June 5, 2022, at his home.
He was born Sept. 14, 1987, to Roxann and Spike Bighorn. He spent his formative years living in Brockton and attended Barbara Gilligan Elementary School and Brockton High School until his senior year. He then transferred to Poplar High School, where he graduated in 2007.
Although he suffered from a genetic heart condition, it didn't stop him from living a normal childhood — "hanging out" with his friends and cousins and tagging along with his older brother, Quinn, to all of his sporting events and activities. He was everyone's "little brother" and was given the nickname "Smoke Dogg" due to a childhood incident while driving around town on a go-kart whose engine was on fire, leaving a cloud of smoke in its wake — completely unbeknownst to the driver.
Along with his love and fierce loyalty to his family, he had other interesting "hobbies" — basketball and powwows, darts and pool league. He was a renowned powwow singer and traveled the region attending every powwow he possible could during the summers. His primary singing group was Soldier Hill and he made lifelong friends through his singing and traveling with this group.
Although his heart condition made it difficult for him to participate in basketball like he wanted, he took great joy in the few times he did take the court. He loved to regal his friends with stories (some of them "tall tales") of when he was on the court
"poppin' 3s" and "breakin' ankles" just like his brother did. He lived his basketball dreams vicariously through the play of his brother and other family members.
He will be remembered for his infectious personality. He quite possibly was the friendliest person anyone came into contact with, making friends wherever he went and had great loyalty to his friends and relatives. He loved the Oakland Raiders and Gonzaga Bulldogs. At the time of his death, he was employed as a desk clerk at the Homestead Inn in Wolf Point.
He is survived by his mother, Roxann Smith (Robert); father, Spike Bighorn (Stephanie); sisters, Raven and Willow Bighorn; step-brothers, Raymond and Jordan; and grandparents, Alpheus Bighorn Jr., Gloria Chopper, Ray Smith, Dwight and Virginia Birdwell, Julie Bemer (Merle), Carol Bemer, Louise Ell, Ernestine Youpee and Marty Dillon.
He was preceded in death by his older brother, Quinn.
His funeral service was held Saturday, June 11, at American Legion Park in Poplar. Interment was at Riverview Cemetery in Brockton. Cemetery. Clayton Stevenson Memorial Chapel assisted with the arrangements.