Posted on
Local Woman Attends Platinum Jubilee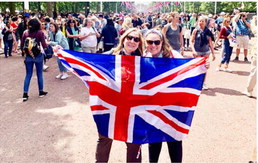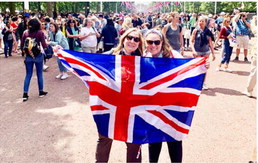 Dr. Sarah Ruff of Wolf Point is certainly not a stranger to England, but her most recent trip to the country was perhaps her most memorable one.
Ruff, who holds dual citizenship in the United States and England, was fortunate to attend Queen Elizabeth II's platinum jubilee earlier this month.
"I feel very lucky to have been able to go," Ruff said. "It was definitely a once in a lifetime experience."
Ruff, who is Wolf Point school's curriculum director, has been attending Trooping the Colour in honor of the queen's birthday most years starting at the age of one.
Queen Elizabeth II is the longest serving British monarch in history, having ascended to the throne in 1952 at the age of 25.
"She's my favorite monarch for sure," Ruff said. "She's seen so much history. She's a very wise woman. She puts her relationship with God first and then country and then service. That's important to me."
Ruff was able to see the queen on the palace's balcony during the Trooping The Colors. "We were in the park," Ruff said.
That evening, the lighting of the beacons took place throughout the commonwealth. Ruff was at Buckingham Palace where Prince William performed the tree lighting. Through an invitation, Ruff was able to even attend the service of thanksgiving at St. Paul's Cathedral.
For the next two days, she visited family. "It was all about community, and working and serving your community," she noted. The whole village celebrated with a jubilee lunch on Sunday, June 5.
Ruff explained that jubilees were celebrated during the queen's 25th, 50th, 60th and now 70th year on the throne.
"It's a celebration of the queen and her service," Ruff said. "It was special because there won't be another one."
She noted that she will never forget the experience.
"It was so much fun, it was go, go, go," Ruff said. "The atmosphere was pulsating. You wanted to be a part of it.'