Posted on
Lustre's Esther Fast Celebrates 100 Years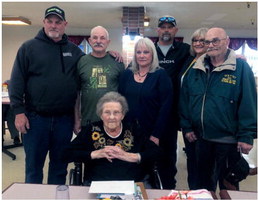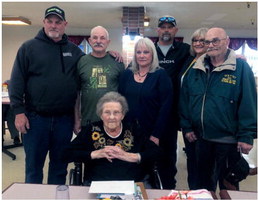 Friends and family of Lustre's Esther Fast gathered in Glasgow at Valley View Home to celebrate her 100th birthday on May 30.
All Fast's living children and approximately 20 extended relations gathered in the dining room at Valley View, where they shared memories and birthday cake.
Born at Lustre, Esther was baptized at the Assembly of God church in Glasgow. She attended Lustre Center Bell through eighth grade and then attended Glasgow High School.
In 1944, she married Marvin Fast (no relation). Her family came from Nebraska. Marvin's was from Minnesota. They were married at Lustre's EMB Church with Peter P. Wiens officiating.
They farmed in the Lustre community until 1980. Then, they put their land in the crop reserve program.
On July 19, 2913, Marvin died in Scobey at the Pioneer Inn. She moved to Glasgow's Prairie Ridge and has been at Valley View Home for the last two years.
They had seven children, 20 grandchildren, 34 great-grandchildren and seven great-great-grandchildren.