Posted on
Art Students Complete Project For Elks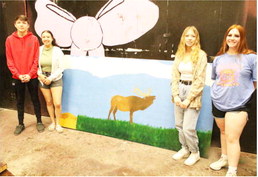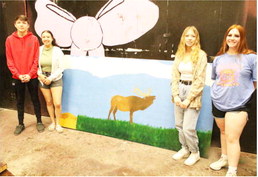 The outside of the Wolf Point Elks Event Center will soon have a brighter look.
Thanks to the work of some talented Wolf Point art students, a painting featuring an elk will be placed in front of a few older windows at the lodge.
Students involved with the project included Adeia Erickson, Mercedes Budak, Alyssa Follet, Tia Nygard, Frank Baker and Audriana Four Bear.
The project took about two weeks to complete.
Art teacher Vivian Schultz explained that the Elks' exalted ruler Jeff Presser and secretary Julie D'Ambrosio approached her about the project. Schultz noted the Elks was willing to pay for materials.
"It's good because we needed a project," Schultz said.
D'Ambrosio explained that covering the windows was part of the lodge's action list from the district's deputy.
"We told them we wanted an elk and something Native American," D'Ambrosio said. "They just went with it. It looks really good."