Posted on
Lustre News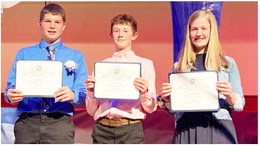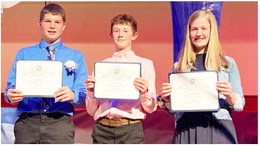 Lauryn Holtzritzer, Hannah Brown, Diek Olfert, Cameron Reddig and Nathan Fast were Lustre's team to compete in the Class III Academic Olympics. They earned first-place trophies in both the written and oral sections of the Academic Olympics. Olfert, son of Dawson and Alicia Olfert, earned the medal for being the top student in the entire district This was among the entire seventh and eightth grades in all the schools participating.
Students enjoyed a track and field day at the grade school on Tuesday, May 17.
Nathan Fast, Diek Olfert and Hannah Brown graduated Thursday evening, May 19 from eighth grade in ceremonies at LGS.
Fast is the son of Jerry and Susan Fast. Brown is the daughter of Sarah Brown.
Teacher John Du Bose thanked their parents for bringing up such respectful students. The students chose Michael Butler as their commencement speaker.
Butler told them life is full of choices and every choice has consequences. He advised three choices to make to have a successful life. 1. Choose Joy, based on Philippians 4:4. Complaining does not change things, he said, but focuses on misery. He said thankfulness to God, the giver of good gifts brings peace from Him. 2. Choose to serve. He said live interactions and social media bring pressure on youth whose parents or teachers want them to be perfect, while friends want them to be cool, pretty or athletic. All you want is to be liked, seen and loved. He told the grads that it's best is to stop focusing on "me", and look for ways to make people be liked, seen and loved. He said to follow Jesus' example, Who came to serve and proved His love by giving Himself for others. 3. Choose to do right. Butler said doing right has never been popular. The graduates will meet voices who want to make greater rights, lesser wrongs. When the chips are down, they will need to make moral choices such as helping a friend by cheating or making cheap shots that are illegal moves in games or gossiping. He asked "who decides what is true?" and answered with "Only the God of the universe can decide what is right. Even your parents and teachers don't get to decide what is right and wrong. That is reserved for God and it's found in a wonderful Book you will want to read. There are consequences of doing right." Repeating his thesis, "Every choice has a consequence," he advised they choose the better consequence. Living by these three choices (joy, serving, doing right), will make it possible to live with no regrets.
LGS chairman of the board Brent Unrau presented Butler with a gift and thanked him for 10 years of service as Lustre's music teacher. He is leaving to work with youth.
The school year ended May 20 with a community picnic and awards at the grade school.