Posted on
Culbertson Celebrates Graduation Of Seniors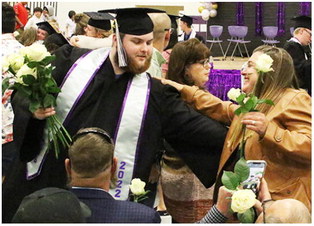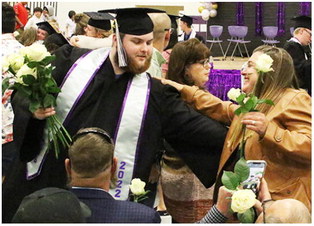 Culbertson's graduation class of 2022 that included 21 students wasn't exactly equally divided between boys and girls. After all, the number featured 17 boys and only four girls.
Valedictorian Autumn Bergum said she wouldn't have the class be any other way. She said others have asked her how she could deal with the large majority of boys in her class.
"I want to deal with it," Bergum said during her graduation speech on Saturday, May 21.
She noted there were some drawbacks such as being put in headlocks, but there were also benefits such as dealing with less drama.
"For us girls, it's like having 17 big brothers," she said.
In her speech, she talked about the personality traits of each of her fellow graduates.
"This is the Culbertson class of 2022. We left our mark."
The class included Bergum, Isaiah Bighorn, Eric Chilson, Trevor Ewack, Gabrielle Granbois, Vincent Granbois, Kyler Kempton, Jahrone Kendall, James Kirkaldie, Morgan Lucas, Zachary Miller, Zachary O'Neill, Aiden Perkins, Tige Purvis, Elise Rattling Thunder, Wyatt Snyder, Colton Spacht, Joe Stewart, Ayden Van Why, Joseph Wilhorn and Nickolas Wilson.
Kirkaldie, the class' salutatorian, noted how people can make the difference in an individual's life.
"You can be negatively influenced by peers. At the same time, they can influence in a positive way and you can become a better person," Kirkaldie said. "The right person and community can turn you around."
He noted how the little town of Culbertson takes care of people. He is thankful for the opportunities that were provided at the school.
"You know we're pretty lucky growing up in Culbertson," he said. "Thank you, Culbertson."
Teacher and coach Mark Pederson served as the ceremony's guest speaker.
He told the Class of 2022 members that the day was the first day of the graduates' education and that life will be their teacher.
Pederson offered a top 10 list of tips to succeed in life including being honest, hard working, kind, grateful, involved, respectful, responsible and great.
Eighth-grade graduates for the class of 2026 include Owen Annett, Ayden Ator, Logan Berwick, Mariana Burciaga, Sublime Cady, Christian Chilson, Ivy Colvin, Genesey Deen, Catherine Donaldson, Kale Dunphy, Micah Eagle Boy, Trevon Ewack, Kaden Featherston, Joshua Firemoon, Quaden First That Walks, Tyler Friede, Ayden Hunter, Ryker Hutchings-Bigler, Peyton Jahns, Kaylee Kohl, Jade Lone Bear, Jacklynne McDonald, Carter Pacovsky, Leandra Perkins, Leland Pirkle, Jordan Purvis, Gavin Raaum, Will Salvevold, Ian Snyder, Brooks Solem and Hector Yellow Owl.