Posted on
Buffalo United Project Provides Lessons For Poplar Students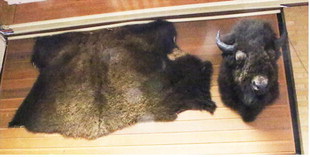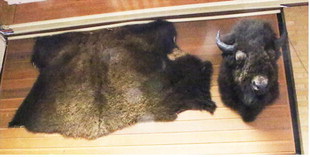 The Buffalo Unity Project keeps serving as a great learning avenue for Poplar's seventh-grade students.
Morgan Norgaard, principal of Poplar Middle School, said the program is currently in its fourth year and in the process of putting together its annual documentary.
An exciting part of the project this year was students establishing a medicine wheel. The middle school woodshop students constructed an 80-feet medicine wheel under the direction of teacher Joe Hammar. Justin Grey Hawk Sr. and the Tribal Executive Board helped secure a location on the southwest corner entrance of the tribal building.
"IRR dug down and leveled off the grounds. Students then laid landscaping mat down, which was donated by Agland, and Gourneau Construction donated the gravel that made the base of the project," Norgaard said. "Fort Peck Community College went and picked up 50 80-100 pounds stones that make up the medicine wheel."
The principal said the two-month project will be part of the documentary produced by the students and middle school. The first two documentaries are available to watch on You Tube if you search "The Buffalo Unity Project."
Another highlight of this year's activities was students being able to interview and film Gov. Gianforte during his visit to the community in late April.
Norgaard said it was beneficial that Rezkast Media assisted students with filming the interview. About 12 students took part in the film crew.
He credits teacher Jacob Turcotte for having the initial idea of getting students involved in film production. Past documentaries have been nominated for awards and featured at the Big Sky Film Festival.
Norgaard said the learning experience has been outstanding. Some current high school are considering studying media arts in college because of that background.
This year's theme for the project is the healing power of laughter to get through difficult times.
"This year, specifically, 21 guest speakers talked to our kids," Norgaard said. "Having 21 people come in shows the interest in the program." During a two-week period in April, all subjects are taught around the same idea. "Everybody is talking about bison and the theme this year," Norgaard explained. "The students look forward to it. Attendance is typically higher during those two weeks."
Each year, the project ends with a harvest of a buffalo. Lessons are taught including historical importance and anatomy of the buffalo.
The animal is taken in for processing. Hamburgers and roasts are then given to elders and students to express appreciation.
The theme of the project for the first year was unity. "When you come through the middle school doors, it doesn't matter your race, you're a Poplar Indian.," Norgaard said. During the second year, the theme dealt with gender roles. The school, JOM and the CHANTE' program have donated to the project plus many other individuals have donated their physical energy.
"It's something the kids will remember the rest of their lives," Norgaard said of the program. "They will remember the Buffalo Unity Project."