Posted on
Record High Set At Glasgow Sunday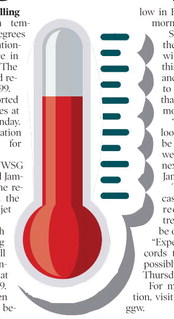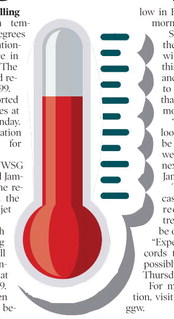 A record high temperature of 58 degrees was set at the National Weather Service in Glasgow Nov. 28. The high breaks the old record of 57 set in 1899.
Wolf Point reported a high of 53 degrees at the airport on Sunday. Record information was unavailable for Wolf Point.
According to NWSG lead forecaster Ted Jamba, the cause of the record warmth was the placement of the jet stream.
"It's to our north and not allowing colder air to spill into northeast Montana," said Jamba at press time Nov, 29. "Alaska has not been as lucky. It was 33 below in Fairbanks this morning."
Said Jamba, the jet stream will settle south this weekend and we'll begin to see some of that cooler air move in.
"After that, it looks like it will be more typical weather for us next week," said Jamba.
The forecaster said the record-setting trend may not be over.
"Expect more records to be broken possibly through Thursday," he said.
For more information, visit weather.gov/ ggw.