Posted on
Gym Floor Tables Added At Elks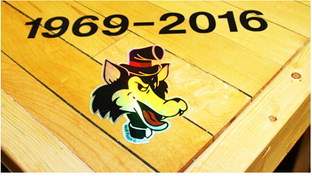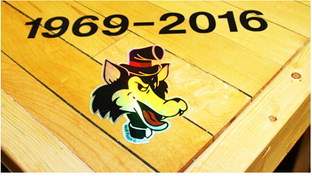 Thanks of the work of Wolf Point High School students, there are now special tables located in the community's Elks Event Center.
The tables, built by woodworking class members, are made from the high school's old gym floor. Decals on the table read 1969-2016, which were the years of the gym floor's existence.
Elks Exalted Ruler Jeff Presser and Elks member Aaron Kurokawa approached teacher R.C. Page about the idea about a year ago. Work began mid-February of 2021.
This August, the tables were moved to Elks member Gary Johnson's garage where Johnson and Elks member Dennis Heser completed the finishing touches on the tables.
The finished items were placed at the Elks Event Center a couple of weeks ago.
The goal is that people will gather around the tables to discuss the many great boys' and girls' basketball teams and players that competed for Wolf Point throughout those years. There are probably many great memories to share by former players, coaches and fans.
Page feels everybody wins when students can create something that can bring the entire community enjoyment.
Other items created with the old gym floor have included a donors' wall commemorative pieces with stickers along with student projects including end tables and night stands.