Posted on
State Commission Considers Map Proposals For New House Seat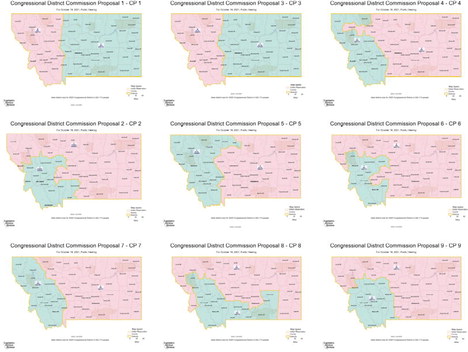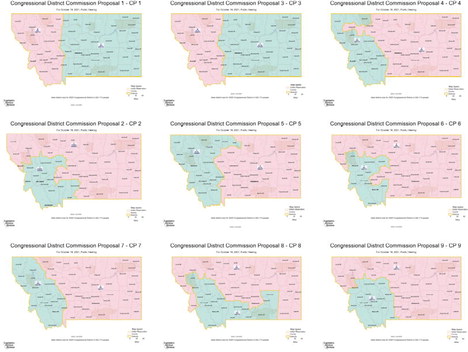 The Montana Districting and Apportionment Commission now has nine proposed maps to consider regarding the new congressional districts for U.S. House seats.
The commission will meet on Tuesday, Oct. 19, to hear public comment on the nine proposed maps. Commission members will then meet again in a work session on Thursday, Oct. 21, to select a map for an Oct. 30 public hearing.
Democrats on the commission produced five maps. Those entries had the state's two largest universities together and includes several western Montana cities.
The four maps produced by Republican commission members pretty much splits the state into western and eastern districts.
State Sen. Mike Fox, D-Hays, said he doesn't have a favorite among the nine proposed maps at this point.
"Some of them are pretty interested," Fox said. He added that it's important for him that the map selected is fair for both Republicans and Democrats. "Give everybody a fair shake."
The state's seven Indian reservations were unevenly divided between the two districts in the proposals. Fox doesn't feel it's necessary for the reservations to be grouped together.
"I just hope it's a fair process," Fox said.
Montana is adding a seat in the U.S. House based on numbers of the 2020 U.S. Census. Currently, U.S. Rep. Matt Rosendale, R-Mont., is the state's lone representative.
Rosendale expressed disappointed in some of the maps proposed.
"I have had grave concerns that politics might come into the redistricting process of the new congressional maps despite our independent commission. I am reviewing the maps to make sure they have upheld our states laws and do not reflect gerrymandering," Rosendale said.
U.S. Sen. Steve Daines, R-Mont., said, "The maps proposed by the Democrat Commissioners are highly partisan and do not remotely reflect the fair 'east/west' districts that for 70 years, always included Lincoln and Flathead counties in the western district. Without a single proposal that even maintains this basic measure, the Democrats have created congressional districts that are egregious and reckless on their face in an attempt to gerrymander and benefit one political party."
Written public comments are encouraged. Written comments may be submitted using the commission's webform, through the interactive maps online, emailed to [email protected], or mailed to Districting and Apportionment Commission, PO Box 201706, Helena, MT 59620.
Written comments received by 5 p.m. on Saturday, Oct. 16, will be provided to commissioners in advance of the Oct. 19 hearing. Comments received after that time but before Oct. 19 will be given to the commissioners prior to or at the Oct. 19 hearing. Comments received between Oct. 19 and 5 p.m. on Wednesday, Oct. 20 will be provided to the commissioners prior to the Oct. 21 work session. Comments received after that time will be given to the commissioners prior to the Oct. 30 public hearing.