Posted on
Ceremony Held In Honor Of COVID Victims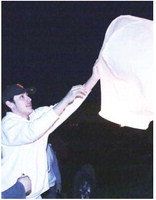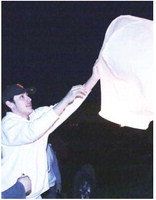 With the purpose of remembering Fort Peck Reservation members who lost their lives because of COVID-19, a teepee ceremony was held at Wolf Point High School on Friday, April 2.
The event was sponsored by Spotted Bull and the Nakona Dakota Oyate Youth Council.
Group advisor Carrie Manning explained that the tipi was located in Frazer beginning the week of March 26. A ceremony will take place in Poplar at 8 p.m. on Friday, April 9, in Brockton at 8 p.m. on Friday, April 16, and in Fort Kipp at 8 p.m. on Friday, April 23.
"Many of the students lost relatives to COVID," Manning said. "They wanted to do something to honor them."
The ceremony included the lighting of paper lanterns that were sent up to the sky.
Roger White sang at the event.
Antone Manning
Wolf Point High School senior Antone Manning releases a lantern during Friday night's event.
(Photo by Bill Vander Weele)