Posted on
Mary Joan "Jo" Bryan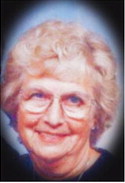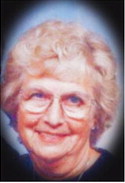 Mary Joan "Jo" Bryan, age 89, passed away peacefully in the early morning hours of June 27, 2020, in Wolf Point, Mont.
Born in St. Joseph, Mo., to Hugh and Marion Whitten on May 9, 1931, Jo spent her younger years traveling with her family as her father's job as an engineer for the Great Northern Railroad frequently moved them to various places. When Jo turned 11, she was excited to become a big sister to her brother Russ.
Jo graduated from Jamestown College in North Dakota with a degree in English. It was during her school years at Jamestown that she was fortunate enough to meet the love of her life, Keith Bryan. Keith and Jo married on March 5, 1951, and went on to raise four children together in their small, cherished town of Wolf Point, Mont. Jo was eager to share that Wolf Point was the first town she lived in for more than two consecutive years. She went on to make Wolf Point her home for 69 years.
Jo dedicated her time to raising her children and serving her community. Together, Keith and Jo ran the successful family business of Bryan's department store. Never one to shy away from a challenge or an opportunity, Jo supported Keith in many successful business ventures throughout their marriage. When their children were old enough to work, Jo and Keith purchased an A& W Root Beer franchise and hired their kids and other local high school students as car hops, cooks, and more. Jo loved to share stories of how the A& W Root Beer was made and the time it took to get the flavor "just right."
Jo was a member of many community organizations and humbly gave back to residents of Wolf Point each and every day. She was a long standing member of Eastern Star, served as the Presbyterian Church secretary for many years, and also served as the secretary for the Riverview Home for children when it was first established. Jo was a strong supporter of the Al Bedoo temple and stood proudly by Keith when he served as Potentate in 1980.
Jo enjoyed entertaining and having gatherings in her home and community. She loved cooking and always had a new recipe to share. Her grandchildren will never forget her famous Swedish meatballs at Christmas time that were sent frozen in coffee cans through the mail to their homes. Though she could never tell you the exact recipe, we know they tasted so good because they were made with love. Jo never let bad grammar go uncorrected, or elbows to be on the table at dinner time and knew that good manners were a necessity in life.
She could always be found playing cards with anyone who would challenge her to a game. She especially loved playing Bridge and always encouraged playing for money. She was eager to teach new card players the tricks of the games and to help them to learn to play strategically. She would then laugh and encourage another game after she beat you at cards again.
After retirement, Jo spent many days on the lake at their home on Fort Peck Lake and enjoyed time at the beach in Mexico and Oceanside, Calif.
Jo was preceded in death by her beloved husband of 69 years, Keith Bryan; her parents, Hugh and Marion Whitten; and treasured son-in-law, Jerry Fossen.
Survivors include her four children, Mike (Shelley) of Glasgow, Mont., George of Denver, Colo., Jan of Wolf Point, Mont., and Laura Fossen of Whitewood, S.D.; along with six adored grandchildren, Kenny (Sara) Bryan of Glasgow, Mont., Keith (Abby) Higgins of Wolf Point, Mont., Jessica Robles of Wolf Point Mont., Todd Fossen of Spearfish, S.D., Sandra (Patrick) Cass of Sturgis, S.D., and Bryana (Nick) Marsicano of Cañon City, Colo.; seven great-grandchildren Matthew Bryan, Archer Higgins, Mia Thomas, EmmahLeigh and Owen Cass and Avery and Reese Marsicano. Jo is also survived by her brother, Russ Whitten of Tucson, Ariz.; and seven loving nieces.
(Paid Obituary)