Posted on
Historical Society Names First Female Director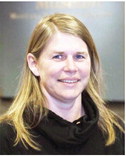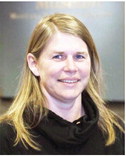 Kruckenberg Tapped to Lead Montana
The Montana Historical Society is making history itself by appointing Molly Kruckenberg to be its first woman director in 155 years.
Kruckenberg will take the reins from Director Bruce Whittenberg on Oct. 1, when he steps back from full-time duties. Whittenberg, who has been at the Montana Historical Society for nine years, is retiring but will stay on in a limited role through the end of the 2020.
Kent Kleinkopf, president of the MHS Board of Trustees, said executive transitions often can be difficult. But Kruckenberg's long-time experience heading the Montana Historical Society's Research Center, coupled with Whittenberg's willingness to help when needed, should make the change seamless.
"Bruce, bless his heart, is making it easy for all of us," Kleinkopf said. "Molly has been in a leadership role for many years, and not just in her area of expertise. She quietly inspires people, and her breadth and knowledge of the Montana Historical Society is extensive.
"Then to have Bruce volunteer to stay on as a mentor, and to help out in other ways, shows his commitment not just to the new Montana Heritage Center project, but to the historical society as a whole."
Kruckenberg has worked at the Montana Historical Society for 21 years, after earning a bachelor's degree in history and a master's degree in Library and Information Science from the University in Pittsburgh. She said she is honored to be selected as the new director, noting that Whittenberg has positioned MHS for a bright future.
"This is an exciting time for our institution as we approach construction of the Montana Heritage Center," Kruckenberg said. "As the new director of the Montana Historical Society, I will ensure that all Montanans have the opportunity to learn from, interact with, and enjoy our history. Our staff is amazing, their work is exceptional, and I look forward to the opportunities and challenges that come with the position."
Whittenberg is a former Lee Enterprise publisher who led the Billings Gazette, Helena Independent Record and Iowa's Quad City Times. He founded Leadership Montana in 2004, which teaches young professionals the skills to build betterm relationships and communities through knowledge, collaboration and civility.
He took the helm of the Montana Historical Society in 2011, bringing those leadership skills with him. "Bruce has an ability to work with gove r n o rs , legislators , budget people, business owners, non-prof its and communities across the state," said Chuck Johnson, a retired journalist and MHS board member. "He took the message throughout Montana that the historical society is not just for Helena, but for the entire state."
Whittenberg's largest accomplishment to the Montana Historical Society was getting bi-partisan support during the 2019 legislative session for construction of the $52 million Montana Heritage Center, after more than a decade of efforts.
Yet Senate Bill 338 isn't just about the Montana Heritage Center, Kleinkopf noted. It immediately provided restoration funding for the Moss Mansion in Billings and the Daly Mansion in Hamilton. It also includes a provision for historic preservation grants for public and private museums and historical societies across Montana.
"Those grant opportunities are in perpetuity for all sorts of organizations around the state, in every county," Kleinkopf said. "Bruce was a key negotiator on that part, even though he might not be willing to 'fess up to that, but he was.
"Bruce is, without a doubt, the most successful director we have had in our lifetime. He had a world of experience coming into the position and has been an exceptional fundraiser. With his robust enthusiasm, he has that inspirational ability to bring people on board."
Whittenberg plans to remain in Helena when he retires at the end of the year, and is looking forward to fishing, hiking and quaffing a few microbrews at his favorite watering holes. He looks back on his time as historical society director fondly, noting that a great staff can make any agency head look good.
"Believe it or not, the MHS is a whole lot less about the director than it is about the highly skilled and passionate people who make the director look good," Whittenberg said. "I could not be more proud to have had the opportunity to be on this team. Under Molly's leadership, it will only get better."
For more information, contact Eve Byron, MHS public information officer, at 406-444-6843 or [email protected]