Posted on
Brockton High School Seniors Celebrate 2020 Graduation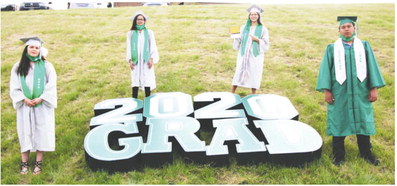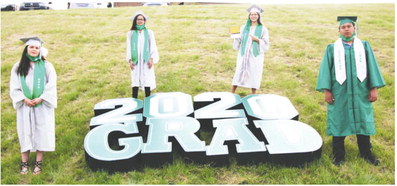 The Brockton School District held commencement exercises for the 2020 graduating class May 15. Four graduates were honored, including Samona Birdinground, Jacie Mikkelsen, Nathan Nash and Mikaila Youpee. Nash is Brockton's valedictorian. Mikkelsen earned the distinction of salutatorian.
Superintendent Steve Engebretson was master of ceremonies. The proceedings were broadcast on social media, as well as 90.1 FM.
After opening remarks, salutatorian Jacie Mikkelsen spoke. She recounted early challenges in cross country.
"I've always been told one thing," said Mikkelsen, "that's to never give up because you can only get better as you go."
She thanked the assembled parents and grandparents and said her grandparents in Norway have followed her progress carefully. She said her class was born out of the ashes of tragedy.
"We graduate during a worldwide pandemic and we will continue to conquer our dreams through determination," said Mikkelsen. "I hope that we will stick together in the future and, as we always said, once a Warrior, always a Warrior."
Teacher Bernadette Wind gave the commencement address, alternating between English and Dakota.
Nash spoke next, focusing on crossing important educational milestones.
Said Nash, "Today is a time to make mistakes and change our minds, then change them again. That way, when we are asked, we'll know what we want to be for the rest of our lives."
The Brockton class song is The Way I Talk. The class colors are green and silver and the class flower is a rose. Beth Ketcher was class advisor. The class motto is "Luck is what happens when preparation meets opportunity."