Posted on
Evelyn Casterline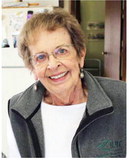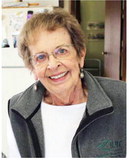 Evelyn Strand Stensland Casterline, 86, died May 12, 2020.
She was born Dec. 4, 1933, in Big Timber to Albert and Elsie Strand, the fourth of their six children. She graduated from Big Timber High School and attended Montana State, where she was a member of the Kappa Delta Sorority and the Women's Student Body President.
After graduating in 1955, she married her college sweetheart, Gerald Stensland. They had four boys, Gary, Mark, Paul and John. Jerry died in 1963. She married Bill Casterline in 1967 and they made their home on a farm east of Culbertson. Together, they finished raising their four boys as well as hogs, cattle, chicken and crops. Bill died in 2006.
She loved to cook and bake. In the late 1950s, she even had her own live TV cooking show in Great Falls. She loved cooking traditional Norwegian foods. For several decades, she served as foods judge at county 4-H fairs across northeastern Montana.
She could make anything grow and always had a bountiful garden, bright flowers in the yard and house plants that somehow never died. She loved to read and had a lifelong love of books. When there wasn't a book in her hands, she was working on some craft. She made beautiful pieces of needlework and quilts and has the purple ribbons to show for it. She especially loved the challenge of Hardanger, an intricate Norwegian form of needlework.
She was very active in the Culbertson community, serving on the school board and hospital board. She loved her service with Women's Club, where she served as local president, state president and national officer. She loved the extensive traveling that came with those jobs and the wide expanse of friends she made from across the country.
There was never a time when she was not active in her faith in Jesus. She was a lifelong member of the Lutheran Church and Trinity Lutheran Church for the last 60 years, where she taught Sunday school, led Bible studies and gave an occasional sermon.
She is survived by her sons, Gary, Mark, Paul and John; seven grandchildren; one great-granddaughter; and sisters, Doris McDonald and June Gunnerson.
There will be celebration of life at a later date. Burial will take place in Hillside Cemetery in Culbertson.