Posted on
MDT Adds Skulls, Medicine Wheels To Poplar Roundabouts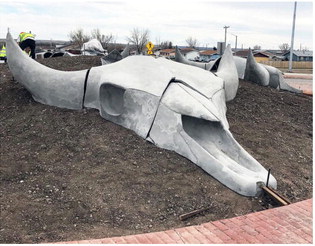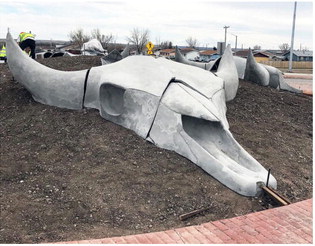 Melissa Shannon with Strategies 360 told the Northern Plains Independent that an installation featuring four large concrete buffalo skulls was begun April 28 at the easternmost roundabout in Poplar. She said construction on the skulls is expected to be finished up by next week.
The project was designed by Kelley Savage with Robert Peccia and Associates and Roch Fautch from Magicraftsman Studio. Shannon said the design was approved by the Montana Department of Transportation and the Fort Peck Tribes.
"The design was handed over to Roch Fautch with Magicraftsman Studio where they were prefabricated, cut into pieces and then shipped to Poplar," said Shannon. "Once they are all put back together, the skulls will be filled with concrete and color will be added."
Savage is a registered landscape architect with Norris Design in Fort Collins. She has won numerous design awards in Colorado and Utah. Concrete specialist Roch Fautch is based in the Spokane Valley in Washington. He focuses on large scale artistic concrete installations, artificial rock, fine art painting and sculpture.
Shannon said medicine wheels will be installed in coming weeks at the 5th Avenue roundabout. The Tribes are planning to build a tribal wellness center near the intersection. The medicine wheels were also designed by Kelley Savage and constructed by Roch Fautch.
For more information about MDT's ongoing construction in Poplar, visit mdt.mt.gov/pubinvolve/ poplar/.
Roundabout Skulls
Designer Kelley Savage was assisted by Roch Fautch from Magicraftsman Studio in creating concrete buffalo skulls for the roundabout at Kirn Road in Poplar.
(Photo by James Walling)