Posted on
Ator, Wiliams Selected Nyquist Foundation Essay Winners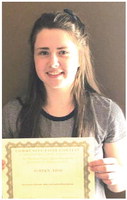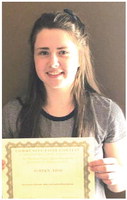 The Thomas and Corrine Nyquist Foundation has announced the winners of its 2019 Nyquist Foundation Essay Contest. Held each year, the competition is meant to highlight a particular topic and engage local students in meaningful conversations. This year, the topic was "The Future of Rural America." Students were encouraged to conduct interviews, research and write in-depth essays expressing their opinions on the topic.
The first place winner is Culbertson High School senior Ashtyn Ator. Ator received $250. The second place winner is also a senior from Culbertson High School, Kelsie Williams, who received $150. Additionally, both winners received a certificate from the Nyquist Foundation, congratulating them on their work.
"Each year, the Culbertson Public Library is honored to partner with the Nyquist Foundation and the Culbertson Public School to encourage students to participate in this contest," said librarian Leona Colvin. "Each student that entered the contest is to be congratulated, as are the teachers who encouraged them to write as they continually make a positive difference in the lives of their students."
The Thomas and Corinne Nyquist Foundation is a family foundation formed in 2004 to provide small grants for local initiatives of nonprofit organizations and groups in New Paltz, NY, and in Roosevelt County, with emphasis on the communities of Bainville, Culbertson and Froid. In addition, it funds a yearly student essay contest in Culbertson and Froid, scholarships in Bainville, and runs the Nyquist- Harcourt Wildlife Sanctuary in New Paltz, N.Y.
For more information, contact Colvin at 787-5275 or email at [email protected] yahoo.com.