Posted on
Wild West Diner Offers Up Free Meals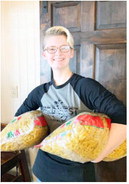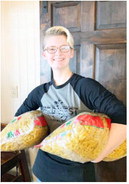 Twenty pounds of noodles and an equal amount of hamburger went into Wild West Diner's goulash recipe Thursday, March 19. The Culbertson eatery offered up free meals for community members from 4:30-5:30 p.m. Over 100 people were served.
Amber Shanks and Ronald Arthur helped deliver the meals. Mary Snyder-Machart and helpers Maria, Juliet and Jasmine James-Nunez helped decorate to-go boxes with colorful messages.
According to Ashlee Anderson, Wild West will be offering another round of hospitality Thursday, March 26. The menu will be tator tot casserole with a veggie.
"Just come to the diner Wild West Diner's Emma Pederson hefts ingredients for goulash Thursday, March 19. (Submitted photo) and we will dish it up in to-go boxes," said Anderson.
Anderson added that community support has been a driver for the restaurant's charitable activities.
"We are so grateful for all of the people in the community who have volunteered to drive, donate food, decorate boxes and who have made monetary donations," said Anderson.
She added that beef for the meals was donated by Tom and Sonja Beck.
Current hours at Wild West are 7 a.m.-1:30 p.m. for pickup or delivery (in Culbertson). The diner is located at 20 6th St. E in Culbertson. Call 406-787-5374. Regular delivery orders need to be prepaid via credit card.