Posted on
Roosevelt County Sees One Confirmed Case Of Coronavirus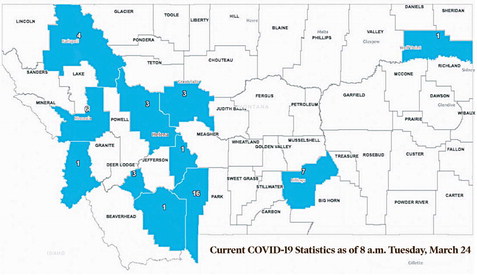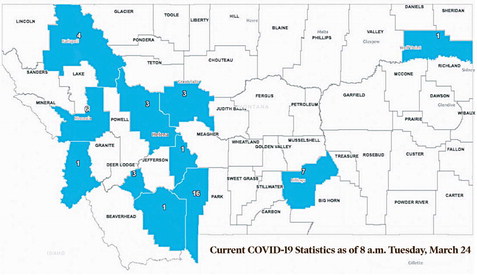 This is a situation update as of 10 a.m. Tuesday, March 24, in Roosevelt County on Coronavirus Disease- 19, also called COVID-19.
At this time, there is one reported case of COVID-19 in Roosevelt County. The case was associated with international travel. At this time, there are 46 reported cases in the State of Montana.
Symptoms of the disease are fever, cough and difficulty breathing.
Travel information is available online at cdc.gov/travel.
Call ahead to a healthcare professional if you develop a fever, cough or difficulty breathing, and have been in close contact with a person known to have COVID-19 or have recently traveled to an area with ongoing spread. Tell your healthcare professional about your recent travel or contact.
Do not call 653-6240 or 911 if you develop symptoms of COVID-19. Instead, stay home if you are ill. If you need healthcare, call your healthcare professional. Your provider will determine if testing for COVID-19 is appropriate for you.
COVID-19 testing in Montana is currently available at the Montana Public Health Lab in Helena and at several commercial laboratories. If you need to be tested, your healthcare provider will gather a specimen from your nose and mail the specimen to a laboratory. It takes from two to seven days to get the result.
Governor Steve Bullock issued a directive pertaining to restrictions on food and beverage services and casinos that requires no on-premises use. Restaurants and bars were able to utilize delivery and/or takeout to continue serving their customers.
All Roosevelt County schools are closed through March 27 in response to Gov. Bullock's directive on March 15.
Nursing homes are closed to visitors except for certain situations, such as end of life.
All Roosevelt County buildings will remain open; however, public access will be limited. Members of the public who need services at a Roosevelt County building will need to call and make an appointment. For immunization needs, call 653-6223.
Practice social distancing:
•Limit all gatherings, especially gatherings of more than 50 people.
•Persons age 60 or older should not attend gatherings of more than 20 people.
•Parents should avoid placing children for childcare with grandparents over the age of 60, or immunocompromised persons.
At this time, Roosevelt County Health Department's recommendations for the public are to:
•Stay home if you're sick.
•Avoid contact with sick people when possible.
•Cover you cough and sneezes with the crook of your elbow or a tissue.
• A v o i d touching your eyes, nose, or mouthandwash your hands frequently.
•Clean and disinfect frequently touched objects and surfaces using a regular household cleaning spray or wipe.
It is important for older adults and people who have serious longterm health problems to take special precautions to reduce their risk of getting ill from COVID-19:
•Stock up on supplies, including extra medications; over-the-counter medications and medical supplies (tissues, etc.) to treat fever and other symptoms; have enough household items and groceries on hand so that you will be prepared to stay at home for a period of time; and Albertson's in Wolf Point has reserved 7 to 9 a.m. on Tuesdays and Thursdays for senior citizens, immune compromised patrons and pregnant women.
•Take everyday precautions to keep space between yourself and others.
•When you go out in public, keep away from others who are sick, limit close contact and wash your hands often.
•Avoid crowds as much as possible.
•During a COVID-19 outbreak in your community, stay home as much as possible to further reduce your risk of being exposed.
For up-to-date information on COVID-19, go to dphhs.mt.gov. For further questions, call Roosevelt County Health Department at 653-6223.