Posted on
Michelle Radue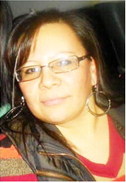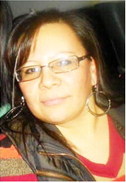 Michelle "Shelly" Radue, 50, of Poplar, died Friday, March 13, 2020, in Bismarck, N.D.
She was born to Victoria Youngman and Leroy Douglas in Poplar on June 9, 1969. She graduated from Miles City High School in 1987. She moved back to Poplar in 1988. She met Irvin Olson Sr. in 1988 and she started her family. They have six children together.
She worked for the Fort Peck Tribes as the chairman's secretary for a number of years. She liked to have cookouts with family and friends. She also enjoyed watching movies, going to rummage sales with her mother-in-law Margaret, playing machines, taking her grandchildren to pow-wows, participating in school activities with her grandchildren. She was always a joy to be around and her laugh was infectious. She loved to spend time with her children and grandchildren, they were her world. She devoted her last remaining years raising her grandson as her own.
She is survived by her six children, Raymond, Irvin Jr., Victoria, Heather, Margaret and Erica; her companion, Curtis Allen Menz Sr.; brother, Justin Douglas; sister, Laurie Lund; adopted mother, Cindy Radue; grandmother, Florence Youngman; grandfather, Mike Youngman; adopted brother, Mark Radue; adopted sisters, Felicia and Andrea Radue; and seven grandchildren.
She was preceded in death by her sister, Shiela Radue; and brother, Christopher Douglas.
A funeral service was held Friday, March 20, at the Poplar Cultural Center. Interment was at the Box Elder Cemetery in Poplar. Clayton Stevenson Memorial Chapel of Wolf Point was entrusted with the arrangements.