Posted on
Laura Jeffers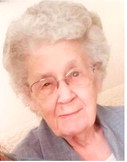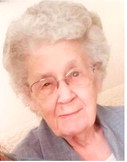 Laura Jeffers passed away on Feb. 29, 2020, surrounded by loved ones, at the Rosebud Health Care Center due to complications with pneumonia. She was 89 years old.
Laura Minnie Jensen was born May 4, 1930, to Holger Jensen and Mary Base in Froid, Mont. She grew up working on the farm near Froid with her six sisters and she attended schools in Froid. She graduated from Froid High School in May of 1948.
She married Roy Neumiller on Sept. 2, 1948, in Glendive, Montana. 3 sons were born to this marriage. Dale, John and Bill. In the early days of her marriage, Laura lived on the Neumiller ranch near Vida, Montana and then moved to Elliston, Montana as Roy worked on the railroad and in the local goldmine. Laura and Roy moved back to Wolf Point in 1960 and she worked 3 jobs to support the family - ironing clothes, housekeeping, and doing maid service at the Sherman Motor Inn. She taught her boys the meaning of hard work and doing well in school. She went to work for the Wolf Point Faith Lutheran Nursing Home in 1962 and worked her way up from Nurse's Assistant to head Nurse - getting her LPN and RN licenses along the way.
She separated from Roy in 1970 and married Bill Jeffers on June 23rd, 1972. They moved to Ball Club, Minnesota, ran a small farm, and Bill worked in Deer River as a mechanic. They would later move to Wadena, Minnesota to run the local airport. Laura was very organized and she made sure the books were correct and everything at the airport was in tip top shape. Laura and Bill moved to Glendive, Montana to work at the airport. They then settled in Forsyth where Bill was an airplane mechanic for the local airport. Bill passed away in November of 1996 and Laura stayed in Forsyth until 2012. She moved to the South Forty Apartments in Billings and enjoyed the bingo games and visiting with all of her new friends there. She moved back to Forsyth and into the TLC Assisted Living in July of 2019.
Laura loved staying in touch with her family, kids, and grandkids. She embraced the new technology and kept track of everyone with her smart phone and laptop. Her grandson, Kodi, was always a call away to help her out of technical difficulties! She was an avid reader and loved getting books from her cousin, Linda in Virginia. She also loved sharing and exchanging books with her friends from the South Forty. She was the family historian and built quite a book of records for the Jensen and Neumiller families.
She was preceded in death by her dad, Holger, and her mom, Mary, sisters Lois and Lillian. She is survived by her three sons: Dale (Rosie) Neumiller of Shepherd MT, John (Wanda ) Neumiller of Grand Rapids, Minnesota, Bill (Laurie) Neumiller of Colstrip, MT. Sisters: Helen Kirkegard of Manhattan, Jean Gartside of Townsend, Mildred Battin of Miles City, and Bonnie Good of Potlatch, Idaho. Grandchildren: Laurie, Andrea, Todd, Traci, Kayla, Kodi, and Kendal. She was blessed with several great grandchildren and numerous nieces, nephews, and cousins.
A special acknowledgment to Dwayne Albertson, who worked with Laura at the Wolf Point Faith Lutheran Nursing Home and remained her friend over the years. His visits and constant friendship were a blessing in her life. Also appreciated is Carol Neutgens of Wolf Point for the way she kept in contact with Laura and the many visits over the years.
The family would like to thank the staff of the Rosebud County Health Care Center and Stevenson's and Sons for all of the kindness and consideration during Laura's final days.
Cremation has taken place and a memorial service is planned for 11:00 a.m., Saturday, May 9, 2020, at the Forsyth Concordia Lutheran Church with burial to take place at the Forsyth Cemetery.
In lieu of flowers, the family has asked that donations be made to the Sydney Hedges -Syd's Wish Foundation which helps children battling childhood diseases. Laura wore her "Syd's bracelet" always - she always asked about her and was wearing it as she began her own final journey.
(Paid Obituary)