Posted on
Allyn Skyberg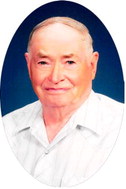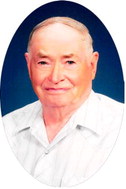 Allyn "Buster" Walter Skyberg, 95, of rural Fort Peck, died March 6, 2020, in Glasgow.
He was born Dec. 14, 1924, in Bonin, McCone County, to Melvin and Thora (Wangsness) Skyberg. He grew up on the family ranch where, in his youth, he herded sheep and later cattle.
He attended country grade school and three years of high school in Nashua and Frazer, but never finished the last year to graduate, as World War II drew his brothers away, leaving him to help with the ranch. He took flying les- sons in 1951 and got his pilot's license in 1952.
On June 6, 1956, he married Dorothy Evenson. They lived on the family ranch for a year and a half. In 1957, they bought and moved to an irrigated hay farm on the Milk River southeast of Nashua, where they raised three children: Debbie, Jeff and Audrey. ,During this time, he took a correspondence course and became a certified diesel mechanic. He served on the Nashua School board and the Valley Electric Co-op board.
In 1972, they sold the farm and he went to work for the Glasgow Angus Ranch. In 1974, he went to work for MDU at the Fort Peck compressor plant, where he worked his way up to plant supervisor. He retired from MDU in 1989. In 1991, he and Dorothy started to build a house on the original ranch homestead site in McCone County and moved in in July of 1992, where he spent his days doing yard work and helping the neighbors. He spent his evenings and winters reading Louis L'Amour books over and over.
He was preceded in death by his brothers, Kristian and Melvin; and sister Margaret.
He is survived by his wife, Dorothy; daughters, Debrah Skyberg and Audrey Breitbach; son, Jeffery Skyberg; three grandchildren; and one great-grandson.
Funeral services will be held Monday, March 16, at 10:30 a.m. at the Our Redeemer Lutheran Church with Pastor Greg Holler-Dinsmore officiating. Burial will be in Fort Peck Cemetery.