Posted on
Culbertson Leads Area Schools At District Meet In Sidney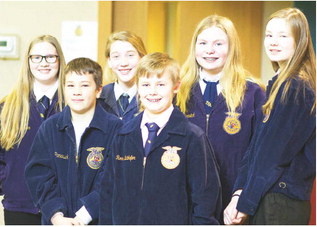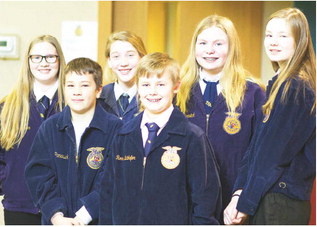 Among area schools competing at the Future Farmers of America district meet in Sidney Feb. 10, Culbertson placed third overall in the sweepstakes competition; Bainville came in fifth, Medicine Lake placed eighth and Froid placed ninth out of 12 chapters. The Richey chapter won the sweepstakes competition, followed by Hinsdale in second.
Bainville FFA advisor Kellan Standley told the Community News that the meet went well. "Everything ran super smoothly and I was really proud of how my students did," said Standley. "It was a great note to end our district-year on. He said Tally Berwick was among his standout competitors. "She chaired our junior parli pro team well but also stepped up in a big way by filling in on the varsity team," he said. "She tied for top test score and hit all of the points she needed to in the varsity meeting."
Standley also singled out Kaden Hansen for praise. "He tied for first in the FBM contest in addition to chairing our varsity parli team." Standley added that Gianna Boyd and Kaitlyn Adkins were also selected to the district all-star team.
Froid FFA advisor Kieth Nordlund said his students face special challenges as a small rural school.
"Last year our ag teacher left the school for a private sector job," said Nordlund. "Our students take an online ag class and then I help with the FFA program. I am very proud of our students as they continue to compete and do well."
Nordlund said he was especially proud of the JV farm business management team's first place finish in Sidney. He singled out eighth grader Kaylee Olson for praise.
"She signed up for the prepared speaking," he said. "She was under the impression she was on JV but there was only varsity. For her first time ever doing a speech In front of judges she handled herself very well." Olson placed fourth in the prepared speaking event.
Meet organizer and Fairview FFA advisor Vanessa Pooch said as many as 80 students and 30 volunteers came together to make the competition a success.
Said Pooch, "The most exciting part about the contest was all the students who conquered their fears and tried something new. FFA is all about learning and growing. Regardless of what place students take on the actual competition, they are all ahead because of new confidence gained and skills perfected."