Posted on
Culbertson, Bainville Split Saturday Games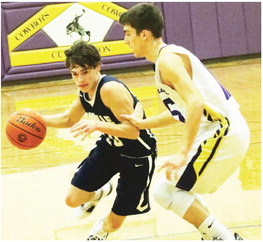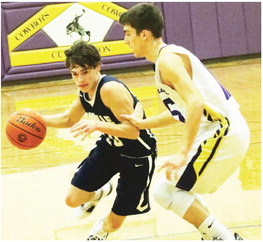 Culbertson's girls' basketball team tuned up for the district tournament with a strong 52-29 home victory over Bainville Saturday, Feb. 15.
Hot shooting and a 2-3 zone defense led the Cowgirls to a 15-2 command in the first quarter. After Fallon Sun Rhodes scored the game's first four points, Kelsie Williams connected from threepoint range.
Three points by Sun Rhodes, a basket by Faith Bowland and another threepointer by Williams increased the margin to 15-0. Bainville got on the scoreboard when Kiylee Kellis hit a 16-footer with 35 seconds remaining in the quarter.
The Cowgirls led 21-6 midway into the second quarter when the Bulldogs began battling back. Two three-pointers by Katie South and an inside hoop by Aubrey Picard cut the gap to 21-14. Picard, a 6-0 senior, then scored with four seconds left in the half to pull the Bulldogs to 21-16.
Culbertson, behind the scoring of Sun Rhodes and Makena Hauge, accounted for the first six points of the third quarter. After a three-pointer by Bainville's Kellis, Hauge struck for the next five points for a 32-19 margin.
Ahead 34-24, the Cowgirls struck for the last six points of the third quarter on two free throws by Bowland and four points by Sun Rhodes for a 40-24 advantage.
Culbertson then exploded for the first nine points of the fourth quarter on a drive by Williams, three points by Hauge and four points by Sun Rhodes for a 49-24 margin.
Top scorers for the Cowgirls were Sun Rhodes with 17 and Hauge with 16. Also scoring were Bowland with 10, Williams with eight and Ashtyn Ator with one.
Kellis led Bainville with 13 points. Rounding out the scoring were Picard with eight, South with six and Brecklyn Pippenger with two.
Boys' Game
Bainville fought off a fourth-quarter comeback by Culbertson to edge the Cowboys, 56-53, on Saturday night. The Bulldogs earned a 48-39 lead after three quarters of play, but Culbertson struck for the first nine points of the final period on two free throws by Jacob Crowder, a drive by Payton Hauge, a pair of free throws by Michael Pederson and a three-point play by Gabe Granada for a 48-48 deadlock with 3:18 remaining.
Bainville, however, went ahead to stay on a drive by Jesse Strickland with 2:26 left. Two free throws by Derek Bowker increased the gap to 52-48.
After the Bulldogs were able to take time down by holding the ball, Strickland hit two free tosses for a 54-48 margin with 27 seconds remaining.
Culbertson's Colin Avance then scored, but two free throws by Carson Ullmer put the gap to 56-50 with 10 seconds left. A three-pointer by Hauge kept Culbertson alive, but the Cowboys never touched the ball again.
Bainville's top scorers were Bowker with 21, Strickland with 13 and Braeden Romo with 11. Also scoring were Kaden Hansen with seven and Ullmer with four.
Leading the Cowboys were Eli Williams with 17 and Granada with 15. Also scoring were Avance with seven, Hauge with five, Crowder with five, Pederson with four.
The Bulldogs, led by the three-point shooting of Romo and Bowker, outscored Culbertson by a 21-19 margin in the first quarter.
Bainville put together a 7-0 streak midway into the second quarter and enjoyed a 37-29 half-time advantage.
Ahead 42-36 late in the third quarter, the Bulldogs struck for six straight points on two baskets by Hansen and a drive by Strickland for a 48-36 lead.