Posted on
After-School Program Sees Two Funding Bumps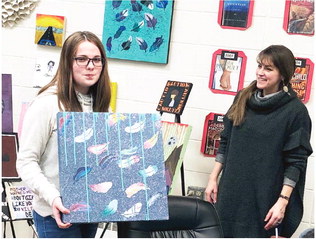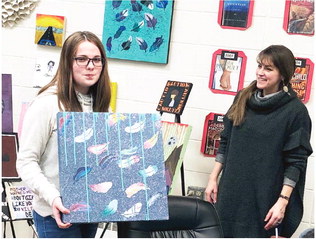 In summer 2019, Bigger Sky Kids received a one-to-one matching grant from the Montana Arts Council to bring artist-in-community Cathryn McIntyre back for 2019-2020 to teach studio mastery for beginning and intermediate artists.
In January, BSK was pleased to learn that Montana-Dakota Utilities will match that $3,900 grant.
BSK recently concluded an impressive show of art created by students in McIntyre's class in fall 2019. Following the conclusion of McIntyre's residency April 30, students will exhibit their paintings from the spring.
Also in January, Karen Jeide of the Roosevelt County Community Foundation confirmed that BSK had been awarded a $955 grant via the Montana Community Foundation.
The grant, for the purchase of computer-related equipment, will be used to acquire a secure cabinet for laptop storage and to purchase Microsoft pens.
"Having the pens will be great," said volunteer Diane Bailey. "We have nine laptops, but only two pens. With seven more, we can add drawing and painting to the computer wizardry class. I'm sure the kids will love it."
For more information about joining or teaching an after-school class at Bigger Sky Kids, visit biggerskykids. org or write to [email protected] org.