Posted on
Edwina Stump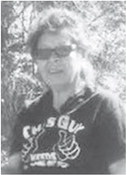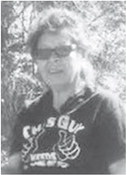 Edwina Gail Stump, 61, died Dec. 8, 2019, in Great Falls.
She was born Oct. 9, 1958, to Peter Walter Stump and Eleanor Marie Hubbard Saddler on mile marker 69 between Havre and Chinook in the ambulance. She was the second youngest of eight children.
She grew up in Rocky Boy where she also attended school. She received her GED at one point in her life and she attended beautician school, which led her to become a master in hair cutting. She had various jobs throughout her life including fighting fire, EMT, dispatcher, cook, cleaner, bingo caller and babysitter. She also went to school for automotive and graduated with her associates in auto mechanics.
When she wasn't working, she enjoyed spending time with her family and friends. She loved her machines and loved to joke and laugh and always had a story. She had a huge heart and would give you her last dollar.
She will be greatly missed by her bestie, Guy Crawford Stump, whom she helped raise and loved dearly. She was there to push him in his education and was so proud to see him graduate. She loved all her grandchildren so much and they all made her very proud.
She is survived by her sister, Darleen Stump Brown of Poplar; brothers, Robert and Ronnie Stump of Rocky Boy and Gordon Stump of Salt Lake City, Utah; children, Eleanor Stump, Chad Matte; five grandchildren, including Mickie who she helped raise.
She was preceded in death by her brothers, Keith, Bull and Harold; and late husband, Michael Matte.
Funeral services were held Saturday, Dec. 14, at the Poplar Cultural Center with interment in Fort Kipp. Clayton Stevenson Memorial Chapel was entrusted with arrangements.