Posted on
Chanté Project Raises Hopeful Signs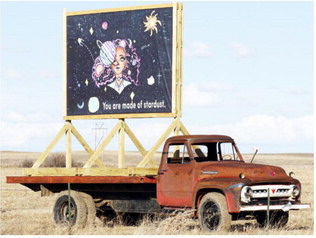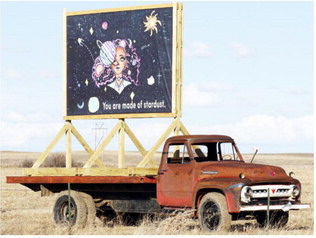 You Are Made Of Stardust
Signs designed by area students have been going up across the Fort Peck Reservation from Frazer to Brockton. According to project director Carly Hosford-Israel, the signs were designed by students for four local communities: Frazer, Wolf Point, Poplar and Brockton.
The signs feature designs with hopeful messages like "you are made of stardust" and "you are strong & wanted."
The sign east of Wolf Point features a simple heart shape connected to a brain with the slogan "you are strong & wanted." The art and slogan were created by Tia Nygard and Sarah Williamson.
"I like the opportunity to promote kindness," said Williamson, a 10th grader at Wolf Point High School. "I hope people see it and feel wanted."
The design for the Frazer installment, located near the powwow grounds, was created by Athena Runs Through. Hosford-Israel selected the slogan.
The Poplar High School student council found the design for their community's sign, a butterfly, via online search. The text reads, "You are free to fly." Alexus Culbertson executed the design/slogan for the council.
The sign near Brockton features a dreamcatcher and the words, "chase the dream" in both English and Dakota. It was designed by Povee Youngman and Princess Russell.
The signs take advantage of a loophole in signage regulations by utilizing old trucks as bases, en- abling Chanté collaborators to sidestep rules for permanent signage. Local do-gooder Joe Robinson and friends have been wrangling the trucks and signs into place. Robinson put up the Frazer sign March 28.
Hosford-Israel said the idea was first proposed by Dylan Moore in March of 2019. She said efforts began to coalesce in September of last year.
The Chanté Project's mission is to prepare middle and high school students on the Fort Peck Reservation for healthy, productive and fulfilling adult lives. To learn more about their programs and offerings, visit chanteproject. com.